Have you ever heard of the Book of Kells? This is one of the oldest examples of a biblical manuscript in tact today. It contains the four Gospels. It is written in Latin and was written by medieval monks around the 8th century. Some scholars say that it was most likely written in scriptorium of a monastery on the Isles of Iona, off the northwest coast of Scotland. It was moved to the village of Kells, in Ireland after a Viking raid to keep it safe around 680AD. Later in the 11th c. it was stolen, where the cover was torn off and the remainder of the book was discarded in a ditch. Sadly, the cover has never been recovered. It is believed, that it was stolen for the gold, precious stones and gems that encrusted its cover.
St Colum Cille Monastery- founded 561 AD, Isles of Iona, Scotland
It contains 680 vellum pages! Vellum was painstakingly made from calfskin. Then those pages were stacked into folios, 340 of them, and then sewn together to create this extraordinary book. What is even more remarkable is that all but two of the pages contain illuminated artwork and intricately painted Celtic knot work, some of which, is so refined it can only be seen with a magnifying glass!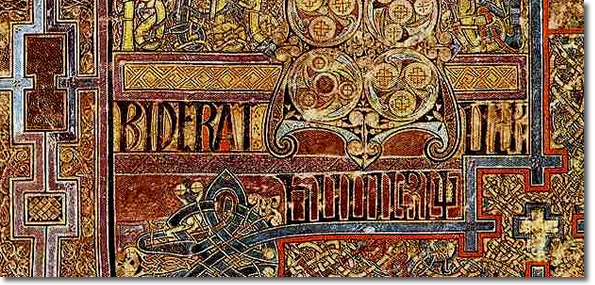 Details of Celtic Knot work
There were 10 different colors of ink used. The inks were natural dyes made from plants, roots, bark, minerals, shells and other things found in nature, some of which had to come from other continents. Many of the pages are illuminated with gold. There are pages that feature what is referred to as "carpet"
pages because of their graphic layout.
The book also includes portrait pages and partially decorated pages as well.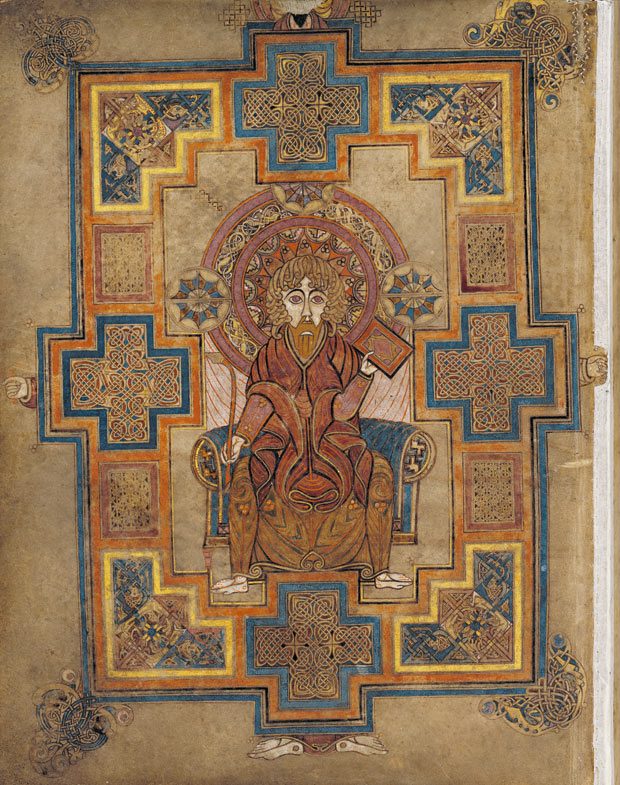 Portrait page laid out like a carpet page
This is such a fine example of the artistry and craftsmanship of medieval Europe. It is an inspiring model for us to use as we study for our next project!
If that alone isn't enough to make it awesome, then maybe this will interest you. It is also a great example of Uncial calligraphy, the second hand of calligraphy that we will be working on.
Today the book of Kells is on display in the old library,located at
Trinity College
in Dublin, Ireland. It is visited by 500,00 people each year.
Please come to class prepared with your calligraphy pen in your art box. This will be an instructional day with some practice time to it.
(abouteducation.com, "The Book of Kells" Melissa Snell-Medieval History Expert)
(tcd.ie/Library/bookofkells/book-of-kells/, Book of Kells)
photos taken from Google for the purpose of education